Someone once asked me who would be on the Mount Rushmore of hip-hop and it surprised me just how hard it was to think of it. There are so many people who've made such huge contributions, and it's hard to just pick four. So, as I tried to think of 4 people, I started breaking it down into categories in order make things easier: pioneers, MC's, producers, my own favorites, and the all-time greats.
The Pioneers
Honorable Mention: The Sugarhill Gang, Kurtis Blow
DJ Kool Herc
Kool Herc is often credited as being the creator of hip-hop. He was the first to isolate certain parts of songs he liked, particularly James Brown drum breaks, and play them over and over again. So in a sense, he invented sampling in hip-hop. Kool Herc referred to the people who danced to his music at parties as "break-boys" and "break-girls" which were shortened to "b-boys" and "b-girls." So much of what is standard practice in hip-hop was originated by Kool Herc. It's such a shame that he never got the mainstream recognition that some of his peers did.
Afrika Bambaataa
Who coined the term hip-hop? Looked no further than Afrika Bambaataa. As one of the 3 godfathers of hip-hop, Bambaataa helped bring hip-hop into the mainstream by fusing it with electronic music, like in his hit single "Planet Rock." As a former gang leader, he used his coalition-building skills by pulling inner city youths away from violence and steering them towards using hip-hop as a creative outlet by creating the Zulu Nation.
Grandmaster Flash
If DJs had their own religion, you best believe that Grandmaster Flash would be God. Any of you guys heard of a crossfader? Well let me introduce you to the man who invented it. As a student of DJ Kool Herc, Flash revolutionized the art of DJing and teamed up with legendary MC Melle Mel to form Grandmaster Flash & The Furious Five, the group who released "The Message."
Fab Five Freddy
Make no mistake, without Fab Five Freddy hip-hop wouldn't exist. He used his hustler's mentality to put hip-hop on the map. And when I say hip-hop, I'm not just talking about the music. Triple F promoted hip-hop art and made friends in high places to so show off hip-hop's finest. He was also the first host of Yo! MTV Raps, the show that launched the careers of several hip-hop legends. The movie Wild Style, which btw is a must-watch for all hip-hop fans, gives an accurate account of Fab Five Freddy's importance.
The MC's
Honorable Mention: Nas, Eminem, Chuck D, 2Pac, The Notorious B.I.G., Jay-Z
Rakim
"I start to think and then I sink/Into the paper like I was ink/When I'm rappin' I'm trapped in between the lines/ I escape when I finish the rhyme." No reason to waste time. Rakim is greatest MC of all time. Period.
Big Daddy Kane
Big Daddy Kane had swagger before any of us knew what it was. He was the original lady's man of hip-hop. With his high-top fade, and silky-smooth flow, BDK had women throwing their panties at him. Without him, there would no LL Cool J. He was the ultimate symbol of black masculinity in hip-hop. But don't let that reputation fool you. Lyrically, he was a killer on the mic. Ice-T has gone on record as saying if he could pick any MC in a rap battle, it would be Kane, and legend has it that Rakim himself turned down an opportunity to battle BDK.
KRS-One
KRS-One is the original street philosopher. He first gained fame as half of Boogie Down Productions along with producer Scott La Rock. Their debut album Criminally Minded is arguably the greatest gangsta rap album of all time and gave birth to the hit single "South Bronx," a hip-hop anthem. When La Rock was fatally killed, KRS-One switched to more intellectually-theme lyrics in his solo career, but still maintained that street edge. He was the 2pac of the Golden Era.
Slick Rick
In its essence, rapping is storytelling, and no one told a story better than Rick The Ruler. The English-born rapper didn't necessarily have a British accent, but his enunciation and diction was that of someone who spoke the Queen's English. What made Slick Rick great was his ability to tell a story. Many of his best tracks are narratives including his most famous single "Children's Story." He was the master at one of hip-hop's lost arts.
The Producers
Honorable Mention: RZA, Kanye West, Eric B., Q-Tip
DJ Premier
DJ Premier is the Rakim of beat making: simply the best. Primo is known as being the instrumental half of Gang Starr, and that alone would get him an honorable mention, but what makes him a legend is the work he's done for other rappers. He's been hired by the likes of Jay-Z, The Notorious B.I.G., Snoop Dogg, Kanye West, Nas, and Common, to name just a few. It's too hard for me to select just a few DJ Premier songs I like so you'll just have to dig around for yourselves.
Dr. Dre
Ignoring the producing he's has done for 2pac, Snoop Dogg, 50 Cent, and Eminem, Dr. Dre essentially created an entire sub-genre of hip-hop. Nuff said.
J Dilla
While J Dilla may not have created the sound a sub-genre of hip-hop like Dre, he would define it during and after his death. What we know as alternative hip-hop has adopted the sound for the late great J Dilla. He's worked on albums for A Tribe Called Quest, as part of The Ummah, Q-Tip, Busta Rhymes, Common, The Roots, Erykah Badu and The Pharcyde, and that's just scratching the surface. And while these names may not hold much weight with mainstream listeners, they are a music critic's wet dream. If DJ Premier is #1, Dilla has to be #1.5. His sound is synonymous with critical acclaim, which is not a bad legacy to have.
Pete Rock
While the sound of east-coast hip-hop was not created with one record like as its west coast counterpart was with The Chronic, the man who produced the latest Sample of the Week could be considered the godfather of the east-coast sound. Like DJ Premier, Pete Rock was the producer of the legendary hip-hop duo Pete Rock & C.L. Smooth. His use of jazz samples set the table for the likes of Q-Tip, J Dilla, 9th Wonder, No I.D., and ?uestlove. Kanye West has said that he sees himself as this generation's Pete Rock. As with all truly great things, Pete Rock has been often imitated, but never duplicated.
The Groups
Honorable Mention: Outkast, N.W.A., Gang Starr, Eric B. & Rakim, De La Soul
Run-DMC
The 80's were considered to be the Golden Era of hip-hop, and that time, Run-DMC ruled the hip-hop world. As the first hip-hop act to go gold and platinum, Run-DMC brought hip-hop into the mainstream and their version of Aerosmith's "Walk This Way" help hip-hop cross over with white audiences. However, they were more that just rappers, they were cultural icons. Everyone in the 80's was buying rope gold chains and Adidas to emulate Run-DMC (hell, as I'm writing this I'm wearing a pair of Adidas shell-toes). They influenced an entire generation and have done more than earned their place among the pantheon of hip-hop legends.
Public Enemy
Public Enemy took James Brown's mantra of "Said it loud: I'm black and I'm proud" and injected it with steroids. They were the proverbial thorn in the side of conservative, white America. Carrying the mantle of Huey Newton and Malcolm X, Public Enemy assaulted the airwaves with Chuck D's politically charged lyrics and gave a voice to the suppressed. And through their collaborations with heavy metal bands such as Anthrax, they were also able to gain popularity with white audiences, as well. To this day, Public Enemy is still spreading the same message, even though it may not be in style anymore.
Wu-Tang Clan
In music, particularly hip-hop, it's not that hard to tell who an artist's influences are. But in the case of the Wu-Tang Clan, these guys were so original, that it's hard to pinpoint where that influence came from. With the exception of maybe Miles Davis' sextet, it's hard for me to think of any other group that can match the sheer amount of talent of WTC. With RZA's wizardry serving as their musical foundation, the Wu was able to take eight completely different  MC's and bring them all together to create something truly magical. Of these MC's, GZA, Ghostface Killah, Raekwon, and Method Mad became legends in their own right. Pound-for-pound, the Wu-Tang Clan just might be the most talented group of artists ever.
A Tribe Called Quest
Take the mainstream popularity of Run-DMC and combine it with the intellect of Public Enemy and the talent of Wu-Tang, you get A Tribe Called Quest. The trio consisting of producer/MC Q-Tip, MC Phife Dawg, and producer/DJ Ali Shaheed Muhammad redefined alternative hip-hop and cast a shadow over all 90's hip-hop. Along with Del La Soul, ATCQ served as a foil to the gangsta rap that was emerging from the west coast. Lyrically, Tribe was lucky to have the dynamic of duo of Q-Tip and one of the most underrated MC's in Phife Dawg, the self-proclaimed "5-foot assassin." Tribe was innovative in their production, with Q-Tip taking the lead on their first 3 albums, and their last two being produced by The Ummah, a producing crew consisting of Q-Tip, Muhammad, and J Dilla. A Tribe Called Quest set the standard for what was considered to be good hip-hop in the 90's, and sadly, that standard has not been met by today's rappers.
My Fab Four
These guys make up my own personal Mt. Rushmore of hip-hop.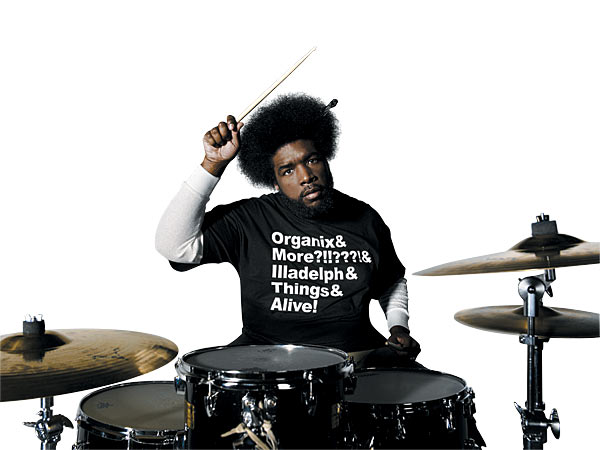 ?uestlove
How could I not include my favorite member of my favorite band? ?uestlove is the drummer and band leader of The Roots, who are the house band for Jimmy Fallon, and is a bona fide musical genius. With a vinyl collection that tops 50,000 records, the Julliard alumnus has forgotten more about music than I will ever know in my lifetime. In fact I'd go so far as to say that ?uestlove knows more about music than anyone in the business today. This has helped him serve as the musical backbone of The Roots and he has produced for the likes of Common, D'Angelo, Erykah Badu, Jay-Z, and Al Green. I could talk about Brother ?uestion for days, but for your sake, I'll stop myself.
Common
Common is the very first rapper that I really got into. When I heard "Go!" for the first time, I was forever hooked. While he hasn't been perfect, Common has consistently delivered on the lyrical end and has collaborated with great producers in No I.D., ?uestlove, J Dilla, and Kanye West. His longevity is also impressive, given that he made his debut in 1992. Along with The Roots, Common is one of few rappers from the early 90's who is still musically relevant today.
MF DOOM
He has gone by the aliases of King Geedorah and Viktor Vaughn, but to many he is simply known as DOOM. DOOM is probably the most unique rapper in the history of the genre. His persona is modeled after Dr. Doom, the arch nemesis of the Fantastic Four. As an MC, DOOM is probably the most underrated rapper I can think of. His lyrics are filled to the brim with so many metaphors and allusions.  The only thing keeping him from being recognized as an all-time great MC is his lack of mainstream popularity. What makes DOOM really stand out is that he's the only MC I can think of whose flow can match his incredible skills as a producer.
Q-Tip
If you read the section about A Tribe Called Quest, you already know that I have a love for the Tipster, so I won't waste too much time. He's my favorite producer. I can't think of any other producers who used samples like Q-Tip. I mean, you else can take a song by Bill Cosby, of all people, and turn it into something hot?
The All-Time Greats
I guess you can say that this would be the definitive Mt. Rushmore of hip-hop, in my opinion, of course.
2pac
Rakim may be the greatest MC of all time, but when you look hip-hop holistically, 2pac tops many people's lists, including my own. Pac was like a hip-hop Swiss army knife: he could do it all. He could get political. He could get sexual. He could be intellectual. He could be violent. He could be fun. He could be serious. 2pac crosses so many sub-genres of hip-hop that it's hard to define him in one. Also, as one of the figureheads of the west coast-east coast rivalry, he helped take hip-hop to new heights, even if it meant losing his life.
The Notorious B.I.G.
Biggie was the Magic Johnson to 2pac's Larry Bird. While Pac was more focused on the substance, Biggie was all about the flash. But don't get me wrong, he had plenty of substance to match. His records speak for themselves. But he is known for his Big Poppa persona, which provided a contrast to the typical gangsta rapper. Along with Nas, The Notorious B.I.G. saved east-coast hip-hop. He and 2pac took hip-hop to new heights and their names will forever be linked with each other.
Jay-Z
There's no denying that Jay-Z is a hip-hop legend. His discography boasts some of the greatest hip-hop records ever made. But what makes him immortal is his work outside of the recording booth. He took the Roc-A-Fella brand and turned it into a global commodity. Today Jay-Z is involved in sports management, fashion, marketing, and is currently selling his share of the Brooklyn Nets. In the words of Hova himself, "I'm not a businessman, I'm a business, man."
?
Alas, I'm only human. There are so many people who are worthy of this last spot. I could have chose Run-DMC for the reasons stated in their section. An argument can be made for Kanye West, Nas, and Dr. Dre, as well. I just can't decide. I guess I'll just leave it up to you to fill that last spot yourself.